June Issue of Harper's Bazaar for iPad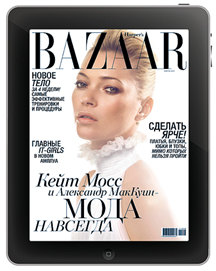 The latest iPad version of Harper's Bazaar will go on sale June 3.
The exciting and multi-dimensional version of the magazine gives readers more than just the best material from the print edition. The impressive slide-show function and the ability to instantly post wish lists to Facebook and "play" with accessories make the iPad version of Harper's Bazaar unique.
Instructions for installing the application via the App Store can be found at www.ipad.bazaar.ru.