Robb Report Russia in June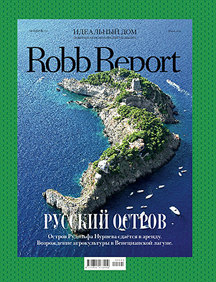 The main themes of the June issue of Robb Report Russia are "the home and Italy." The magazine presents a special review of new productions by a Milan furniture salon: modern design and new and improved materials. Kirill Istomin shares his thoughts on antiques in modern interiors. This issue of Robb Report also includes a special section on the most eco-friendly elite housing projects in Russia and abroad and examines the market for resort residences that are managed by separate groups. This issue also tells the story of five French companies awarded the title of living cultural heritage businesses.
The material on Italy opens with the story of the famous island of Rudolf Nureyev in the Tyrrhenian Sea that is now possible to rent. The magazine's gastronomic expert shares his impressions of the main gourmet exhibition Pitti Taste and presents a short restaurant guide to Florence. The editor-in-chief reports on the agriculture of Mazzorbo Island — a flourishing area in the northern part of the Venetian Lagoon.