Harper's Bazaar in June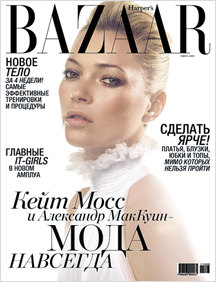 The June issue of Harper's Bazaar has been released. It features Kate Moss describing her friendship with Alexander McQueen and the clothing he designed especially for her.
Also in this issue: a new body in four weeks — the most effective workouts and procedures. The main "it-girls" of Moscow in a new role. Bright colors and complex shapes — fashion as modern art. Actor James Franco visits designer Frida Giannini. British charts leader Emin Agalarov shares his secrets of success with Harper's Bazaar.
Finds: Karolina Kurkova talks about her personal style. The first women's line for Mugler by Nicola Formichetti, the new Lancel boutique and the "face" of Arné jewelry, Aliona Doletskaya.
Details: Tusi Chogovadze recalls her grandmother's pomegranate necklace. Ornaments of yellow gold. The new Dior VIII line. And the 16 things you can't do without this summer.
Diary: the main participants in the Venice Biennale. A guide to events in June. Dmitry Savitsky, Natalia Sindeyeva, Ksenia Sobchak and Andrei Fomin on the main anti-awards of Russian show business.
Beauty: Kirsten Dunst, the "face" of the Bvlgari Mon Jasmin Noir fragrance. The most anticipated summer fragrance, secrets of beautiful hair, weight loss procedures and all shades of bronze in the June issue of Harper's Bazaar.
Flash: The hottest parties of the season according to Harper's Bazaar.
Harper's Bazaar — fashion without rules.