Independent Media Program "They Need Your Help" Turns Six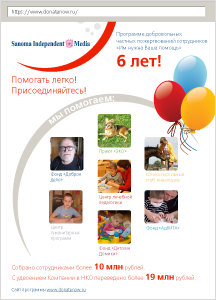 The Sanoma Independent Media charitable program "They Need Your Help" has turned six. Any employee of the Moscow or St. Petersburg offices can voluntarily take part in the program by making a contribution to any one of seven charitable organizations through the web site https://www.donatenow.ru. The company provides assistance to children with serious illnesses in need of expensive treatment, people with physical disabilities, children with developmental handicaps, elderly people who live alone and homeless animals.
Company employees have contributed more than 10 million rubles during the six years of the charitable drive, and because Sanoma Independent Media has been doubling the amount given by employees since 2006, a total of more than 19 million rubles ($683,200) has already been donated to participating non-profit organizations.
The "They Need Your Help" program is administered by CAF Russia.