Domashny Ochag in June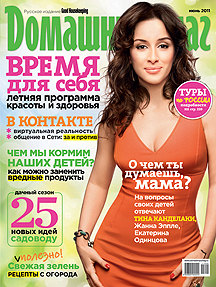 The June issue of Domashny Ochag is out. It includes:
Time for yourself: a summer program of beauty and health;
VKontakte: the pros and cons of virtual reality and communicating through the Internet;
What do we feed our children? How to substitute healthy foods for harmful ones;
What are you thinking about, Mama? Tina Kandelaki, Zhanna Epple and Yekaterina Odintsova answer their children's questions;
Fresh greens: garden recipes;
Dacha season: 25 new horticulture ideas.
This issue also tells readers about the new Domashny Ochag festival — Cooking is Easy! This is the last chance for readers to take part in the competition of the same name and to win prizes for the home and 100,000 rubles ($3,600).
All this and much more interesting and useful information can be found in the June issue of Domashny Ochag magazine.