Robb Report Russia in April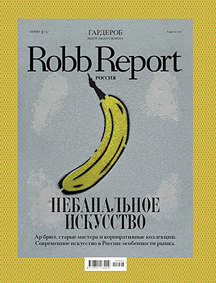 The April issue of Robb Report Russia focuses on art. The magazine examines the market for contemporary art and discovers why art banking in Russia has failed to become a profitable business. Robb Report's experts argue that it is still possible to buy an unknown work by Leonardo da Vinci and explain why artworks by outsiders, oddballs and psychiatric patients can be objects for investment.
The second theme of the issue is wardrobe. Robb Report lists the items you need to have in your wardrobe this summer, the best way to combine them and explains how to complement your image without looking like you care too much about fashion. The issue focuses on the traveler's wardrobe and accessories.
In this issue, Robb Report columnists argue that food photography is indeed an art form and explain why advanced age does not stop people from enjoying life.