Harper's Bazaar – 15 Years in Russia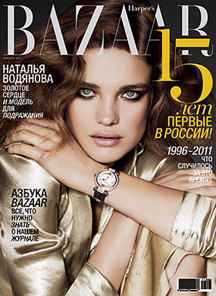 Harper's Bazaar is celebrating its 15th anniversary in Russia. For the first time ever, all of Harper's Bazaar's previous editors-in-chief have come together to tell the story of the magazine and to relate for readers what past times were like.
Natalya Vodyanova talks about her plans for the future in a special interview with Harper's Bazaar, and columnists Alyona Doletskaya, Sofiko Shevarnadze and Andrei Loshak reflect on important changes in society over the past 15 years.
Also in this issue: a Harper's Bazaar dictionary with a brief excursion through the magazine's history. Light flowing cloth, flying silhouettes, floral prints and appliques — this summer combines all things bright and dazzling. Designers Domenico Dolce and Stefano Gabbana talk about the popularity of their brand.
Finds: A Dior exhibition in the Pushkin Museum of Fine Arts, fashion's top heroes, the flagship Lancel boutique and the main must-haves of the season.
Details: What to buy and how to wear it in April, Irina Khakamada on this season's brand-name accessories and the advantages of flat-soled shoes. Television presenter Darya Spiridonova on her participation in the Alberto Feretti show. In good company: top Italian designers on their work for the Women for Women International foundation. Ornaments of turquoise, oversized bracelets, jewelry made from black diamonds and the main trends of the season.
Journal: A guide to the most interesting events of April. Being with John Malkovich: Ingeborga Dapkunaite on the opera "The Giacomo Variations." The premiere of the ballet "Lost Illusions."
Beauty: The last 15 years' most interesting developments in the beauty field. Vincent Cassel on the YSL fragrance La Nuit de L'Homme. Chanel lipstick, the La Prairie clinic, foundation cream by Estee Lauder and spring makeup trends.
Flash: 15 years of social life — Mikhail Druyan on the most iconic social figures and events. Harper's Bazaar picks the season's hottest parties.
Harper's Bazaar — fashion without rules.