Holiday Workshops at Domashny Ochag Institute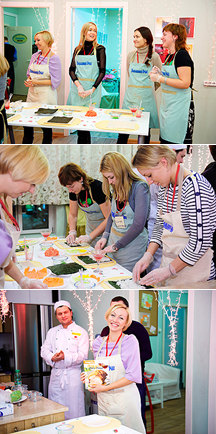 On the eve of the February holidays of St. Valentine's Day and Defender of the Fatherland Day, Domashny Ochag gathered its female friends and business partners at the Domashny Ochag Institute. 
Under the guidance of experienced Institute instructors, guests created handmade gifts for their loved ones using a range of methods and materials. Their creations included picture frames, bookmarks, wineglasses, book covers, greeting cards and much more. Afterward, participants learned how to make cocktails for a romantic evening and attended a workshop in Japanese cuisine. The evening included a contest to determine who could prepare the best Planet and Philadelphia rolls, octopus salad and hot Japanese noodles with seafood.
Domashny Ochag awarded the most enthusiastic participants a special complimentary set of kitchen utensils. Everyone else received free copies of the latest volume from the "Cooking is Easy!" series and the March issue of the magazine. But, most importantly, everyone gained a number of useful skills, spent a great evening in pleasant company and enjoyed the homey atmosphere of the Domashny Ochag Institute.