Cosmopolitan: Sales Leader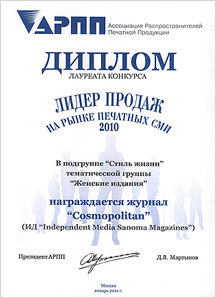 Cosmopolitan has won a Print Media Leader award. The publication was named Best Women's Magazine in the Lifestyle category, receiving the honor for the third year in a row.
The annual Print Media Leader contest is held by the Press Distributors Association. An expert jury composed of representatives of leading distribution firms determines which newspapers and magazines are highest in demand, handing out honors in 40 categories and 15 thematic groups. The awards ceremony for 2010 took place Jan. 20.