Campaign results for "A Human Life is not Loose Change!"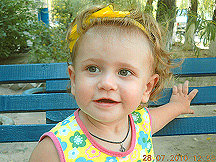 In November 2010 the "A Human Life is not Loose Change" campaign was held for the second time at the Sanoma Independent Media publishing house. Employees at the Moscow and St. Petersburg offices contributed their loose change to the drive. The money collected was donated for the medical treatment of two-year-old Nastya Bronnikova from Volgograd.
This was part of the latest fundraising drive organized by the Lifeline charitable foundation, which was held in Moscow, St. Petersburg, Nizhny Novgorod and Rostov-on-Don. The combined efforts of all participants, including office workers and passersby on the street, collected 1,010,636.81 rubles ($33,878) — enough to fund heart operations for seven seriously ill children.