Popular Lectures on Video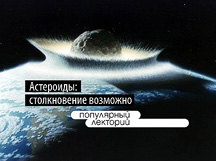 Popular Mechanics magazine held 15 Popular Lectures in 2010. The entire series was recorded on video and posted on the website www. popmech.ru in the Popular Lectures section. Each lecture has garnered an average of 5,000 viewings.
It has now become even easier to find that video material thanks to a continuous banner on the homepage of the Popular Mechanics magazine website. Clicking on the banner takes the visitor to popmech.ru directly to the page where the videos of the lecture series are posted.