Grazia at Sunday Up Market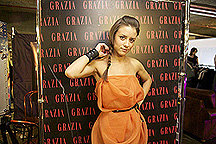 Grazia magazine took part in the Sunday Up Market design fair that was held at the Atrium on November 26 and 27.
A photographer and stylists from the magazine worked at the fair's "beauty zone." The stylists provided personal image consultations and helped the young women choose not only a great look, but one that would work well with their particular figure. They also explained how to make interesting combinations from outfits by young Russian designers. Makeup artists and hair stylists were also on hand to help the young women complete their personal images.
Having completely transformed themselves, the young ladies could feel like stars by walking down a red carpet and getting photographed in front of the Grazia press stand.