New Master Class at Domashny Ochag Institute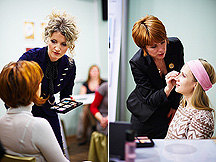 Domashny Ochag Institute held a "Holiday Express Make-up" master class on November 23.
In the run-up to the New Year we are all immersed in a festive whirlwind of activity: running errands, buying gifts, planning the holiday menu, deciding what to wear and, of course, selecting holiday make-up. Every woman wants to look unique and dazzling. But where can she find the time to make a careful, well-considered and appropriate make-up choice? How can she become a real fairy princess in a matter of minutes?
Professional Mary Kay beauty consultant Natalya Zanevskaya presented a master class on various make-up and decorative cosmetics options and application techniques, and also answered questions on a range of topics.
Several similar master classes will be held in December. Schedules and details are available at www.goodhouse.ru/institute.