Special Issue of Robb Report Russia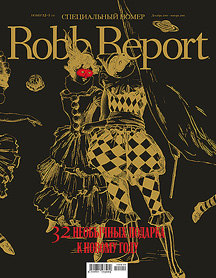 The December 2010/January 2011 double issue of Robb Report Russia is dedicated to holiday gifts. A range of unusual items and services are included in the selection of holiday surprises. Among them: 12 chairs from the Rockefeller home, the bedroom of an Egyptian monarch, a wooden car, an underwater journey on an aerosubmarine, a doll with a 100-year warranty, a super-secret postal service, a castle and a ducal title with a horse thrown into the bargain. In addition, the world's "very, very best" clothing wardrobe, accessories, watches, jewelry, cars, appliances and furnishings.
And the new Robb Report Russia is not limited to holiday gift suggestions. In this issue, the magazine's writers report on a unique arsenal of miniatures, the objects of which are found in many private collections, reveal the reason for the fame of Brioni suits and present the story of ten masterpiece watches by Harry Winston.