Popular Mechanics in November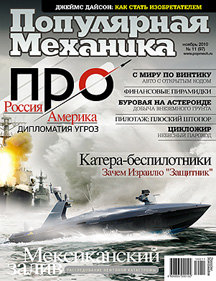 The top story of the November issue of Popular Mechanics magazine is the standoff between Russian and U.S. missile defense system. Readers will learn the fine points of strategic missile defense, including the real way to win a nuclear war.
The military theme continues with coverage of the latest unpiloted combat boats and laser training weapons that will help soldiers evade enemy bullets on the battlefield. The science column includes articles about chances for prospecting diamonds on celestial bodies, cosmic magnetism and the benefits and risks of vaccinations.
Also in this issue:
A detailed investigation into the Gulf of Mexico disaster – how and why the oil spilled;
In the footsteps of Armageddon – technology for drilling on asteroids;
Driving Formula 1 fireballs – what the driver turns and pushes;
Top 10 amateur inventions and an open code automobile;
An airplane with a steamship wheel and radio controlled airplane aerobatics;
How giant canons conquered the impregnable fortress of Poznan;
"Save, Kill, Forget" – a new fantasy story by Yuliy Burkin.