Harper's Bazaar at Tapis Rouge Show Corteo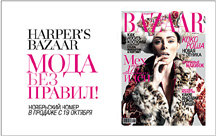 Harper's Bazaar magazine invited friends and business partners to a special private screening of the acclaimed Corteo show by world favorite Cirque du Soleil.
This year, Harper's Bazaar presented a special project for the Tapis Rouge Show Corteo – an interactive 3D exhibit. The works on display, taken from the collection of Cirque du Soleil costumes by world-renowned designers, demonstrated the subtle interconnections between peoples. The exhibition is a spectacular mix of interactive 3D installations and sensual, dramatic images from Harper's Bazaar.
Harper's Bazaar guests could enjoy the exhibit under the Tapis Rouge tents, where they were also treated to a special refreshments reception.