Domashny Ochag on Female Friendships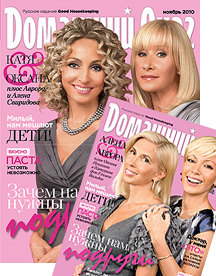 The November issue of Domashny Ochag magazine will be released. The cover story: female friendships. The covers of the conventional and mini-format versions of the magazine show two pairs of friends: Catherine von Gechman-Waldeck with Oxana Pushkina and Alyona Sviridova with Aurora.
In this issue: the opinion of psychologists regarding female friendships, stories from the lives of actual female friends, Domashny Ochag tips for organizing a real hen party, whether children can ruin a marriage and problem-free education of children. The issue includes an interview with Dmitry Kharatyan and Marina Golub.