Runaway Brides Cosmopolitan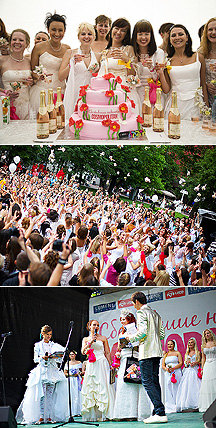 An enormous party marking the six-year anniversary of the "Runaway Bride Cosmopolitan" event was held at the Hermitage garden on May 29.
This year, a record 100+ runaway brides took part in the Moscow event, with more than 1,100 participating in 21 cities across Russia.
Guests in attendance not only fell in love with the brides and had their photographs taken with them, but also enjoyed the spirited concert by Love Radio, tried on dresses made from flowers, threw coins into a wishing fountain, walked along the "Pathway of Happiness," had their make-up done by Lumene visagists, and entrusted their secret questions to parasychologist Arina Yevdokimova of the Lifeline center. The holiday ended with the group of brides tossing their floral bouquets into the air.