Anniversary Issue of Domashny Ochag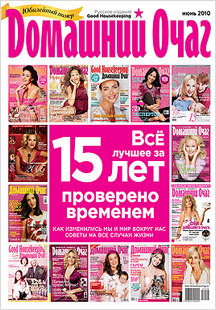 An advertising campaign for the jubilee June issue of Domashny Ochag magazine will begin in early May.
The issue includes all the best time-tested material of the last 15 years, a story about how the magazine and the world at large has changed and tips for all occasions. Every reader will find a coupon which gives 40 percent off the price of any master class offered by the Domashny Ochag Institute.
The advertising campaign includes commercials on the CTC, TNT and Domashny (Home) television channels, First Popular Radio and Children's Radio, print ads in Story, Moi Krokha i Ya (My Little One and I), Vash Dosug (Your Leisure), Cosmopolitan, Gastronom (The Discriminating Eater), Vyshivayu Krestikom (Cross Stitching) and outdoor ads in Moscow including 200 city formats and 100 3X6 meter billboards. As part of the ad campaign, magazine editors will also participate in the "One Hundred to One" program on the Rossiya 1 channel (pitting editors against celebrities who have appeared on the magazine's cover) and at the Food Show and Other Stuff festivals.