Harper's Bazaar on Love Boat Rocks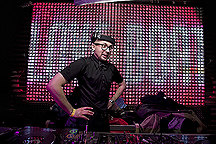 A "Love Boat Rocks" party was held at the Solyanka Club on March 27, timed to coincide with the release of the April issue of Harper's Bazaar.
That night's Love Boat Rocks was a real Vanity Fair in the best sense of the word. Guests who epitomized the very concept of fashion were invited to the Lounge zone Harper's Bazaar and Moet & Chandon. An atmosphere of burlesque-style rockabilly accompanied sets by the incendiary Natalya Turovnikova. And after midnight Vitaly Kozak staged a real fashion movement set to the golden oldies of European and American rock and pop of the 1970s and 1980s.