Popular Mechanics in April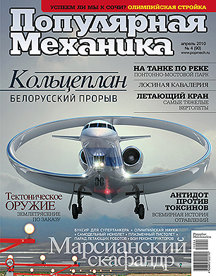 The theme of the April issue of Popular Mechanics is the ring wing, an airplane with an annular wing. People have been trying to make ring wing aircraft fly since the days of the Wright brothers. After many failed experiments, aircraft manufacturers concluded that it was physically impossible for such airplanes to fly. But thanks to the work of Belarusian engineers, a ring wing plane has flown.
In the Science of the Impossible column, readers will learn about the unusual properties of plasma that will soon find applications in science and medicine.
Also in this issue:
tectonic weapons that cause artificial earthquakes;
an update on Olympic construction projects in Sochi;
Are there antidotes to the most powerful poisons?
a spacesuit of the future and a new generation of combat drones;
how to fashion an ion craft, where to play as medieval knights and much more.