Robb Report Russia at Russian Antiques Salon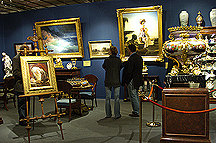 Robb Report Russia magazine served as partner to a closed showing on the eve of the official opening of the 28th Russian Antiques Salon. The event was held on February 26 in the Central House of Artists on Krymsky Val.
Robb Report Russia brought surprises for participants in the reception. Each guest that evening was presented with a complimentary copy of the unique book, "Robb Report: Services" containing information on the most interesting and sought after high-end services in Russia and the world.
The evening's program included a private showing of the 28th Russian Antiques Salon, the opening of the special project "The 1960s: a small encyclopedia of style," and a performance by soloist Yury Bashmet of the State Symphony Orchestra.