The Cosmo-Card: Three Years of Success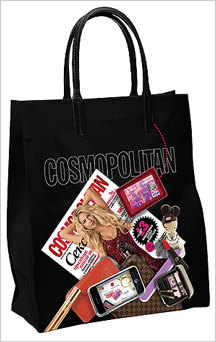 Co-branding of card by Alfa-Bank – Cosmopolitan – Visa marks three-year anniversary.
More than 200,000 people now own the Alfa Bank – Cosmopolitan card. They are the modern residents of major cities who prefer to spend their money wisely. Since its inception three years ago, the number of participating businesses has multiplied rapidly, reaching more than 500 today. These include the world's best stores and boutiques, beauty salons, fitness centers and various fashionable establishments offering special terms only for Alfa Bank – Cosmopolitan – Visa card holders. And their number is constantly growing.
A number of pleasant surprises, campaigns and special offers from participating businesses await Cosmo card holders in 2010. The first is the "5555 Prizes" campaign. Everyone making a purchase totaling 10,000 rubles ($332) or more with the card from February 14 through March 30, 2010 will have a chance to win a stylish handbag with a unique print from Cosmopolitan magazine.