Robb Report Russia: Engine Room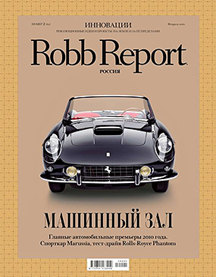 The February issue of Robb Report Russia presents 12 new vehicles for 2010 from the global auto industry. The list includes traditional entries, as well as first-time innovative developments: hybrid and electric cars, as well as the first Russian sports car – the Marussia.
In the second part of the magazine, while disclaiming any laurels as discoverers, Robb Report Russia's editors and writers tell about innovations on the ground, in the sea and in space – and also present cognac as a theory for the strategy of non-interference with nature.