Harper's Bazaar Held Charitable Auction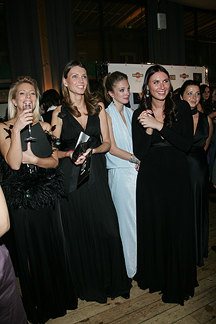 On December 21, Harper's Bazaar magazine teamed up with Quintessentially, the English concierge service, to hold a charitable auction in Moscow's Semifreddo restaurant. The event united three leading charitable foundations for a single goal: Tatiana Shumova's International Programs Management, Peace Planet and Lifeline.
The Charity Bazaar auction brought together the most outstanding members of the business, culture and art elite. Auctioneer Ivan Urgant presented 15 lots contributed by the leading luxury and beauty brands Dior, Chanel, Da Vinci, Chaumet, Helen Yarmak, Leviev, Podium, Prive Jewelry, Soho Jewelry, Queensbee, Stephen Webster, Gourji, Golconda and the Jewelry Theater. Every lot was unique: hand-crafted items in vintage style, jewelry from the very latest collections and recognized masterpieces by the world's leading jewelers.
Martini & Rossi put up a special New Year's lot at the auction – a handcrafted Christmas Tree and ornaments made according to a design by Pierre Henri Matisse, the grandson of the great Henri Matisse, especially for Martini Rosé sparkling wine.
The Tokyo group ended the auction with a special performance of a song from their latest album, "I Choose Love."
Throughout next year, Harper's Bazaar will be informing readers of the results of the activities of the children's charitable foundations receiving support and will take great pleasure in presenting those who have contributed funds.