Teleguide Akado on Pages of Grazia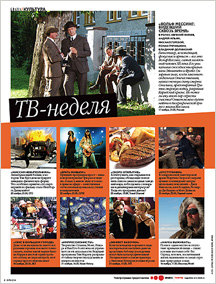 Grazia began publishing its Teleguide Akado material in November. Now the pages of the magazine will include a guide to the biggest and most important premieres of the week.
Teleguide Akado editors make a thematic collection of television programs especially for the magazine's readers. Every week, the Grazia Culture section publishes nine announcements about various films, TV series, concerts, programs on fashion, travel, animals, cooking and more. The announcements cover both nationwide state television as well as thematic programs airing only on for-pay Akado cable stations. Each announcement includes a short description, a photo illustration as well as air times and channels.