Harper's Bazaar Advertising Campaign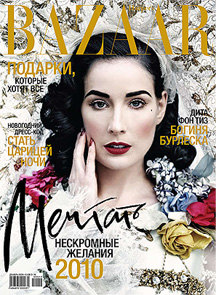 Harper's Bazaar magazine is conducting an advertising campaign dedicated to the release of the December issue containing an exclusive photo shoot of Dita Von Teeze. Running the images of the goddess of burlesque at the New Year's season carries with it an unexpectedly provocative character: Dita has admitted that for the first time she has tried posing as the Virgin Mary.
The video clip advertising the December issue will be shown on radio and television fashion channels. A special banner has been created for fashion portals and a copy of the actual cover will be presented to the press. More than 10 media outlets have been involved in the campaign.
As part of the campaign, the magazine will be specially positioned at sales points in Moscow and the regions.