Harper's Bazaar at Lado Gudiashvili Showing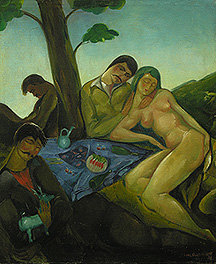 From November 18 to January 10, the Tretyakov Gallery in Moscow is displaying the work of   of Lado (Vladimir) Davidovich Gudiashvili (1896 – 1980), one of the greatest Georgian artists of the 20th century. Harper's Bazaar magazine is providing informational support to the event.
The "Paris Years" showing includes more than 60 drawings and paintings from works the artist produced during his Paris period and held in the collection of Iveta and Tamaz Manasherov and the Tretyakov fund. Most of the works will be shown to the public for the first time.
At the official opening ceremony on November 17, a press conference was held with specialists on the art of Lado Gudiashvili. After the ceremony, Harper's Bazaar invited its business partners to a private dinner and a talk by Nino Katamadze.
As partner to the event, the Harper's Bazaar logo is located on all outdoor advertising and print materials associated with the exhibition.