Harper's Bazaar: "Come Play Brand-o-Mania!"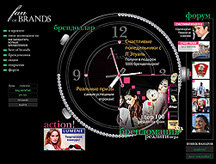 The Harper's Bazaar magazine web site www.bazaar.ru is acting as partner to the first Brand-o-Mania reality game. The game was organized by the new, fashionable Fan of Brands site.
The rules of the game are posted on the Harper's Bazaar web site. Game participants compete for the grand prize – a trip for two to the La Plagne French ski resort in January.
The Fan of Brands site offers the most recent and exclusive information on different brands: from everything you need to know to what nobody else knows. Now you won't have to search for anything on the Internet – Fan of Brands has already found it for you.