Domashny Ochag Opened Kniga Masterov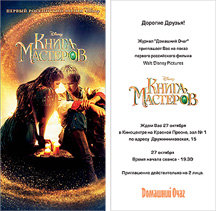 Domashny Ochag magazine organized a showing of the first Russian film made by Walt Disney Pictures, Kniga Masterov (The Book of the Masters), for its business partners and friends.
The popular actors performing in the film include Olga Aroseva, Liya Akhedzhakova, Valentin Gaft, Sergei Garmash, Gosha Kutsenko, Leonid Kuravlyov, Irina Apeksimova and others. The film was shot in the Belarus State Museum of Folk Architecture and Culture.
Kniga Masterov is a light-hearted family comedy, combining Russian fairytales with performances by outstanding Russian actors – all in the spirit of traditional Disney productions. The movie puts everyone in a great mood and restores their faith in miracles.