Grazia at Russian Fashion Week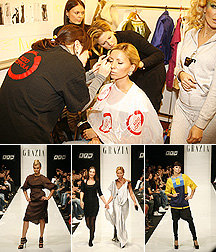 On October 18, Grazia magazine organized the most striking and memorable showing at Russian Fashion Week.
The winners of the first all-Russia contest of young designers and stylists – an event founded by Grazia magazine and the new fashion portal Fashn.me, with support from Redd's brand – were represented by models chosen by the organizers. They included Yeva Lanska, Daria Subbotina, Viktoria Agapova, Oksana Kutuzova, Karina Oshroyeva, Agnia Kusnetsova, Yana Lebedeva and Tutta Larsen.
The Aldo Coppola company acted as cosmetic partner to the project, providing hairdos and make-up for all of the models. The showing was aired on World Fashion TV and NRJ radio.
Slides of the fashion show can be viewed at the web site www.graziamagazine.ru.