Independent Media Magazines at North Pole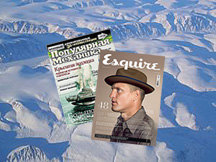 Independent Media Sanoma Magazines went to the North Pole this autumn: the yearly archives of Popular Mechanics and Esquire magazines were included in the electronic library of 15 polar explorers, and the material will be updated throughout 2010. The feat became possible thanks to Zinio Reader technology installed on one of the computers in the North Pole-37 (NP-37) expedition by the Arctic and Antarctic Scientific Research Institute.
The Yamal nuclear-powered icebreaker took the expedition members to the drift station where they will spend a year conducting meteorological observations and scientific research. Zinio will help them in that task by delivering the latest IMSM publications, so that the polar scientists will always know what is happening in the world beyond the North Pole.