Domashny Ochag Supports Ex-Wives Club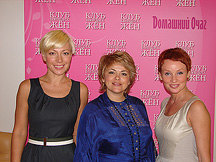 In cooperation with Domashny Ochag magazine, hostesses Aurora and Zhanna Epple of the TNT television channel program The Ex-Wives Club have launched a club to support women. Club members will receive free consultation from psychologists, lawyers, stylists and the show's hostesses. Once every month, celebrity guests and various interesting personages will visit the club meetings. In addition, women who want to forget about life's problems for a time will have the chance to participate in various social projects and useful master classes.
"The idea was in the air for about one year," Aurora said. "We at the program receive many letters from women needing support, but who, for various reasons, cannot come to the show. For a long time, Zhanna and I had been thinking about a way to take the project beyond the television screen," she said.
Domashny Ochag editor-in-chief Maria Vinogradova noted that only people who have lived through similar situations and gone on to become happy, as she has done, can offer real help to other women. Plans are in progress to introduce a separate column on this theme for future issues.
Domashny Ochag is the sole official partner to The Ex-Wives Club. Magazine editor-in-chief Maria Vinogradova serves as a member of the club's organizational council. An informational center for the club is already operating, and all of the club's services will begin working in their own office at Tretaya Tverskaya-Yamskaya Street, building 12, structure 3.