Popular Mechanics Flag on North Pole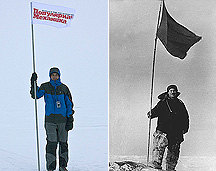 Popular Mechanics editor Dmitry Mamontov took part in the high-latitude Arctic 2009 sea expedition on the Yamal nuclear-powered icebreaker organized by the Rosgidromet Arctic and Antarctic Scientific Research Institute. The 30-day expedition began on August 20.
On September 7, expedition members held the ceremonial opening of the new North Pole-37 drift station, with Dmitry Mamontov placing the Popular Mechanics flag there.
Mamontov shared all of the most interesting aspects of his arctic journey with regular reports in text and photographic material transmitted by satellite connection to the magazine's editorial offices. Those reports are available at his online blog on the Popular Mechanics site www.popmech.ru. Readers will also find special material on the future of the Arctic region in the January issue.