Harper's Bazaar Ad Campaign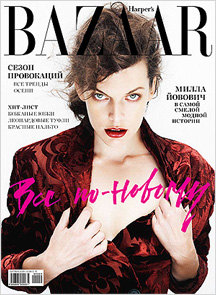 Harper's Bazaar magazine is being held the autumn ad campaign. Its slogan is "Everything in a new fashion", which means the latest trend of the new season. The same slogan is used as the central headline on the cover of the September issue of Harper's Bazaar, which is shown in the commercial.
The commercial is broadcasted on television, radio, Internet and at Luxor chain of cinemas. The advertising page announcing the September issue is place in Rebb Report Russia, Hello! and Icons magazines. The campaign is accompanied by special positioning at points of sales in Moscow and regions.