Cosmopolitan at Britney Spears Concert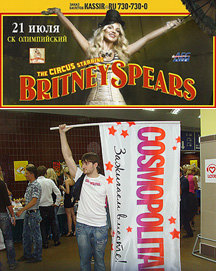 Cosmopolitan magazine acted as informational partner to the Britney Spears concert in Moscow.
Britney Spears gave her first and only concert in the Russian capital on July 21 at the Olympisky Sports Complex. The singer - one of the most sought-after, popular and controversial stars on the planet - brought her super show to Moscow in support of her Circus album.
Magazine readers won tickets to the show on the Cosmo.ru web site.
The Cosmopolitan logo appeared on signs and billboards throughout the city, and a promotional activity for the magazine was held in the foyer just before the concert began.