Harper's Bazaar: It's Gonna Be Hot!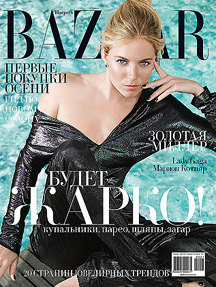 July-August issue to be released.
Beach Patrol: The hottest things for looking good on the beach.
The season's best swim suits and accessories.
Season Hit: A dress with one sleeve.
Glam Safari: Style for an ideal summer wardrobe.
Lady in Red: In fashion - a radical combination of red and black.
Evening Chic: Combining gold, silver and black.
Predicting Tomorrow: What we'll wear this autumn. A return to gothic, the romantic 40s and wild prints.
20 pages of jewelry trends: this year's most sought after jewels.
Beauty Guide: how lovers of nightlife can preserve youth and beauty, new instant tanning technique, the best sun screen.
The Spiritual Connection: Why do we choose this or that aroma?
Only in Harper's Bazaar: Sienna Miller on her movie career and her personal life in the public eye.
Lady Gaga in an exclusive interview with Harper's Bazaar on music, fashion of the 70s and 80s and her love for Andy Warhol.
Marion Cotillard visits Harper's Bazaar.
Travel: Tempting offers. How to rent a 15th century fortress, a villa in the modern style or a Pierre Cardin home for the summer.
High Society Chronicle: Kate Hudson, Demi Moore Elton John and other stars at a Cartier party on 5th Avenue, a party by Roberto Cavalli, cocktails in the Barvikha Luxury Village and other reports from the main party capitals of the world.