Special Issue of Esquire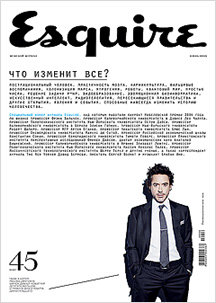 This month, Esquire magazine will release an issue dedicated to phenomena and events capable of changing human history forever.
Read answers to the question "What changes everything?" from 2004 Nobel Prize laureate in physics professor Frank Wilczhek, professor Leo Chalupa of the University of California at Davis, professor Alison Gopnik of U.C. Berkeley, professor Artem Oganov of Moscow State University, doctor of economics Anatoly Vishnevsky, professor Sherry Turkel of the Massachusetts Institute of Technology and other scientists, as well as writer Sergei Bolmat and musician Brian Eno.
Also in the June issue: A new story by Julian Barnes, the wonderful new world of State Duma deputy Sergei Abeltseva and the rules of life by Robert Downey Jr.