Robb Report Russia in May – High Style on the High Seas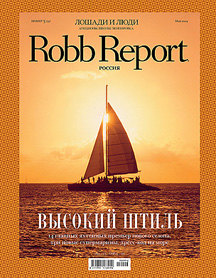 Delve into the sea-going life together with Robb Report Russia: In the May issue, readers will learn about the 14 most important new yachts on the market, feel the old-fashioned appeal of the Riva Trophy Europe regatta and visit the opening of supermarines in Montenegro, Cyprus and Majorca.
Among the themes covered in the section dedicated to horses – the best horseback-riding schools, the rules of the main Arqana "yearling" auction in Deauville, France and advice for choosing a lady's saddle. A lot of material is dedicated to London and Paris custom tailoring parlors that know about the dress code for riders and spectators at the royal Ascot races.
Also in the May issue:
The Infiniti Essence concept car – a one-of-a-kind car with the world's most powerful hybrid motor;
Pocket watches owned by Mahatma Gandhi;
The art of transforming abundant blackthorn bushes into a labyrinth.