Domashny Ochag at "Handicraft Formula" Exhibition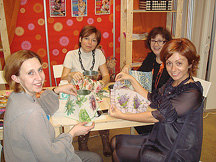 Domashny Ochag magazine took part in the "Handicraft Formula" Exhibition held at the T-Module television center from March 20 to 22.
Exhibition guests could purchase handicrafts and arts supplies and attend such unique master classes as "Embroidery," "Making vintage things by hand," "Gilded decorations" and many others.
The magazine's display was very popular – a cozy spring parlour where visitors could rest, obtain copies of the magazine and participate in master classes held by Domashny Ochag stylist Marina Krugovaya and Vkusno I Polezno (Tasty and Wholesome) magazine's art director Alyona Ryabinina. Visitors thoroughly enjoyed the master classes, and especially the master class on decoupage.