Ice Skating Invitation from Domashny Ochag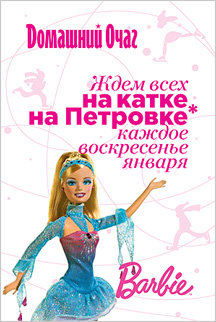 Domashny Ochag magazine invites readers to the ice skating rink "Ha Petrovke" (Petrovka street, number 26, building 9). From 12 noon until 2 p.m. on January 4, 11, 18 and 25 you can come with the whole family to celebrate the New Year and the anniversary of the Barbie doll's birthday.
Guests will find many surprises, athletic competitions, entertaining contests and unforgettable impressions -- all in honor of Barbie's birthday. Children and adults will have a chance to dream a little by immersing themselves in Barbie's beautiful storybook world.
Domashny Ochag will post ads for the event. Pervom Populyarnom radio will run advertising spots, and fliers will be distributed at participating children's stores.