Esquire at Millionaire Fair exhibition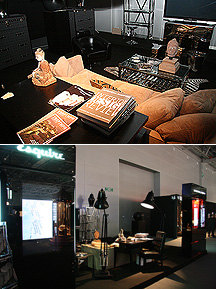 Esquire magazine took part in the Fourth Millionaire Fair Exhibition in Moscow held at the Crocus Expo Center from November 27 to 30.
This year Esquire presented its "Living Room," dedicated to the "Esquire Apartment" project successfully conducted in 2008. Visitors to the Esquire stand received not only detailed information about the project, but could also see how it happened with the aid of special touch boxes that enabled viewers to take an interactive tour around the "Esquire Apartment" in the Copernicus Building. Plasma panels also showed video clips from the project's evening parties.
On opening day November 27, the Esquire stand held a presentation by one of the magazine's associates - a project by The Moscow Times: the Moscow Dining Guide.
The "Apartment" project was carried out with the support of Davidoff Cigarettes, Maxxium Russia, Infiniti, G.K. Mian, Panasonic and Andrew Martin.