Harper's Bazaar – media partner to Global Luxury Forum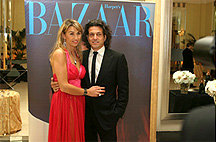 Harper's Bazaar magazine will serve as the media partner to the Global Luxury Forum - the world's largest conference dedicated to luxury - that will be held on December 8 at the Ritz-Carlton Hotel in Moscow.
The dramatic culmination of the conference will be the Global Luxury Gala dinner that promises guests a glamorous atmosphere, an exquisite menu and a performance by brilliant jazz singer Paulette McWilliams.
Among the guests who have already confirmed their attendance at the dinner are top representatives from companies such as Mercury, Bosco Di Ciliegi, Richemont, Cartier, Christie's, Chronolux, Jaguar, Boucheron, Manolo Blahnik, Cosmos-Zoloto, Lux-Holding Carrera y Carrera, L'Oreal, Christian Dior, Vertu, Bentley Motors, Norisk Nickel, Panerai and many others. In addition to major figures from the luxury industry, the evening's guests will include representatives of Moscow's high society, top managers from the Russian offices of major global brands, as well as the chief editors of authoritative international media.
As an official sponsor, Harper's Bazaar magazine has the exclusive right to disseminate promotional materials at the event. The Harper's Bazaar logo will occupy a prominent place in all informational and advertising materials at the conference, including outdoor advertising. The logo will also be displayed on plasma screens during the conference sessions.