Esquire's Third Cinema Party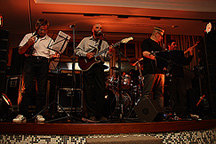 The third cinema party was held on November 12 as part of the "Esquire Apartment" project.
Guests watched short films from the Futureshorts Festival, and then viewed a screening of the movie Morfy, made by one of Moscow's most uninhibited directors, Alexei Balabanov. The film screened simultaneously in several rooms of the apartment that had been converted into small cinema halls for the event.
After the film, guests assembled in the apartment's living room where they listened to a performance by the music group Polite Refusal. Unique black & white deserts from Davidoff added to the evening party's pleasant atmosphere.
The following people were spotted among the attendees: Kseniya Sobchak, Tatiana Lazareva with Mikhail Shats, Anton Nosik, Ivan Urgant with his wife, and others. The party was organized with support from Courvoisier, Infiniti, GK MIAN, Davidoff Cigarettes and the STV film company.