Domashny Ochag Announces Children's Contest Results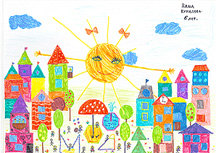 Domashny Ochag magazine and the all-Russia children's television channel TeleNanny announced the results of the contest titled "My Dream City." The magazine's July issue proposed that its young readers draw a city and house for their family using only geometric figures.
Editors received dozens of outstanding submissions from various cities. The contest winners were Vika Kondrashova, Sofia Shustova, Diana Samsonova, Dasha Kurilova and Zhenya Zheltysheva. All of the winners will receive gifts from the TeleNanny Channel and Domashny Ochag magazine.
The contest's organizers would like to convey their best wishes to all of the participants. May all of their dreams come true!