A Musical Evening in the "Esquire Apartment"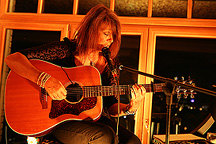 A musical evening was held at the "Esquire Apartment" in the Copernicus Building on September 26. While waiting for the start of the Unplugged concert, guests enjoyed cocktails made from Jim Beam bourbon and original hors d'oeuvres offered by the Conservatory Restaurant.
London bit boxer Shlomo took the stage to rousing applause, and the evening's headliner became singer Vashti Bunyan. Music critic Maxim Semelyak called Vashti "the most down-home, tame and humane folk singer on earth." Following the concert, all of the guests were served unique desserts from Davidoff, prepared in a black & white style.
Among the celebrities spotted in the audience were Sergei Belogolovtsev, Fekla Tolstaya, Artemy Troitsky, Olga Sviblova, Dmitry Borisov, Klavdiya Korshunova, Andrei Loshak, Oleg Nesterov, Lev Rubinshtein, Varvara Babitskaya and many others.
The evening's sponsors included the Copernicus Building management, Davidoff cigarettes, Jim Beam bourbon, Infiniti and the Observatory Restaurant.