Cinema Part At Esquire Apartment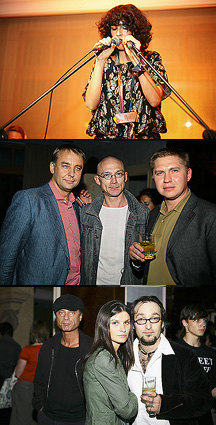 On July 2, the Esquire Apartment, located in Moscow's posh Kopernik luxury housing complex, hosted its first cinema party. The evening began with a series of mini movies from the Futureshorts festival, which were shown in all the bedrooms of the apartment. (The latter were tuned into cinemas for the evening.) The guests chatted and enjoyed Jim Beam cocktails on the terrace with a magnificent view over the city.
In the middle of the evening director Kirill Serebrennikov and screenwriter Yuri Arbatov presented their new film, Yuriev Day, which was later shown on the screens.
After the show the guests gathered in the main living room, where charming Cibelle from London was performing. During the concert, guests sampled an unusual sorbet provided by the Observatoria restaurant.
The guest list included Petr Buslov, Tina Kandelaki, Anton Nossik, Mikhail Kosyrev, Vladimir Kott, Evgeniya Lavut, Andrei Loshak, Aleksey Paperny and others. The official sponsor of the party was Kopernik house, Davidoff Cigarettes, Jim Beam, Infiniti, and the Observatoria restaurant.