Connect! Read! Discuss!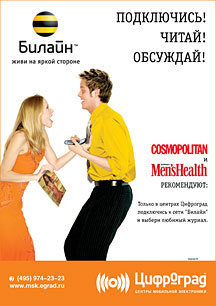 Till September 27, Cosmopolitan and Men's Health magazines, together with Beeline, are holding a promo campaign in more than 1,100 Tsifrograd mobile centers in 250 Russian cities called "Connect! Read! Discuss!".

Every new user of Beeline mobile network receives the latest issue of Cosmopolitan or Men's Health as a gift.

The campaign is supported by radio stations Europa Plus, Hit FM, Russian Radio, Retro FM, outdoor advertising and POS materials.