Domashny Ochag's Telephone Art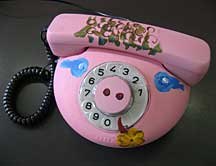 Domashny Ochag magazine is participating in the Lifestyle exhibition being held on October 10-14 in the Central House of Artists.

Domashny Ochag's editorial offered celebrities to paint home telephone sets themselves. The magazine's call was answered by Ekaterina Strizhenova, Alika Smekhova, Oleg Gazmanov, Zhanna Epple, Ksenia Sobchak, Aurora, Alena Sviridova, Valentin Yudashkin, Nikolay Baskov, Boris Moiseev, Natalia Maltseva, Anfisa Chekhova, Vladmir Tishko, Tatiana Limanova, etc. The results will be exhibited at Domashny Ochag's stand at Lifestyle.

The December issue of Domashny Ochag will include the article about the project as well as the announcement of the contest for the best telephone story. Winners will receive the painted telephone sets.