Cosmopolitan: Shooting Without Make-Up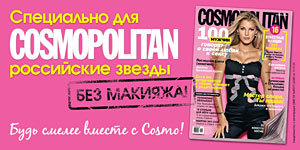 On October 17, the second part of Cosmopolitan's autumn advertising campaign started in Moscow and largest Russian cities. The campaign is aimed at promotion of the Novermber issue. Its slogan is "Without Make-Up". Especially for Cosmopolitan, 16 well-known and beautiful women have agreed to take part in the unique shooting without make-up. The models were Zhanna Friske, Renata Litvinova, Anfisa Chekhova... and Cosmopolitan editorial directors Ellen Verbeek and Elena Myasnikova!

The campaign covers all information channels: television, radio, outdoor advertising, Internet. Cosmo billboards can be seen in St. Petersburg, Rostov-on-Don, Samara, Ekaterinburg and Novosibirsk, as well as cityboards and brandmauers in the central streets of Moscow. Commercials are being shown on federal channels STS, TNT and Muz-TV. Radio announcements are on the air of Europa Plus and Best FM.